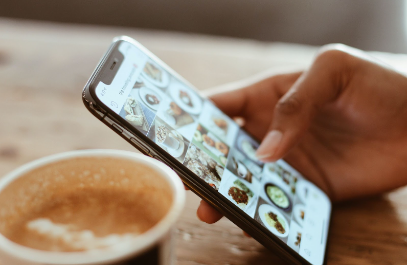 Do you ever follow that one person on Instagram whose feed is just oozing with aesthetic charm? And no matter how hard you try, you just can't achieve the level of consistency that their feed has?! True enough, it feels like a bummer, right? So today, we're going to tell you the ten secrets to mastering your own Instagram aesthetic. What are the influencers doing, how does it seem so effortless, and how do we maintain that uniform charm. These are all the things you need to know and more!
Instagram before vs. Instagram now…
Instagram is an ever-growing social platform that offers users to showcase different lifestyles in photos and videos. Its humble beginnings included a handful of filters and simple post, like, and follow features. But, that was before, years after its release, the app, and the users have developed drastically into a chic, hyper-connect app that has turned into one of the most effective and functional tools to grow and boom your business.
Today, a lot of people now sees Instagram as a chance to gain internet fame by showcasing their day-to-day life. Influencers have now taken an interest in making their feeds talk more about their personality, their want, their attitude, and their overall vibe.
So how do we amp up the Instagram feed?
A rule of thumb in achieving an effortlessly aesthetic Instagram feed is consistency without compromising your true authentic self. Amping up your feed doesn't just entail having beautiful photos, but it also includes the feel, the vibe, and the entire tone that your Instagram feed exudes. Some people may follow accounts with only these three factors since it brings out a satisfying sensation every time we encounter them on our homepage or by simply scrolling through their accounts. So how do we achieve this? Let's find out!
1 Do a vibe check.
Vibes don't just happen in person, and yes, we also do a vibe check on Instagram accounts! Do you give off a truly rich vibe? Cottagecore vibes? Sad boy vibes? Or do you prefer dark academia vibes? It's all in what you post and how you post them, down to the captions. But again, consistency will play a key role in this so make sure that your posts are different but identical at the same time (did that make sense?). Don't worry, we'll give off a couple of popular Instagram accounts that'll make us ride with their vibe.
@lai_tiffany gives us retro vibes that leave us wanting more!
Takeaway: Her feed gives off the finest retro vibes from the places, the style, the color scheme, and even her outfits! One of the things that we noticed is the filter. She used a consistently brown filter or nude tones to her feed. Plus, if you notice, her posts aren't "loud" or it doesn't show any aggressive emotions which kept her feed classy, cool, and again, serving us retro vibes that are very tasteful to look at.
@davidguison is the definition of modern minimalist.
Takeaway: King of Instagram minimalism @davidguison never fails to deliver a fresh vibe to his Instagram. His chosen palette is neutral colors and he keeps his photos with fewer "heads" making them have a cleaner appearance. Also, notice that his shots are always on the waist up or a full body shot. There are little to no close-up shots you'll encounter on his feed. His tones also don't gear away from earthy hues as most of his content is visibly outdoors.
@pinktaho is serving us artsy/dreamy vibes!
Takeaway: @pinktaho's feed is looking every bit enchanted from her Instagram feed's color palette to her whimsical but edgy clothes, and her iconic purple hair. At first look, her feed instantly feels exciting, light, and artsy as she's not afraid to play with different elements. Being an up-and-coming fashion designer, her photos are visibly tasteful, stylish, and very kawaii to the core.
2 Color palettes matter!
One of the most important Instagram rules if you truly want your feed to look pleasing, is having color palettes. Having color palettes makes everything "work" together. You can go with one tone, or you can play with different colors as well. Take the @happyskin_ph Instagram feed as an example. They worked with blue and pink hues to fill up their page. As a skin-caring cosmetic brand, this works very well for them to achieve that fresh, glowy, and light-looking feed.
On the other hand, take @selfcare4u as another example of mixed tones. As you noticed, their feed is full of fun and different colors. It's not the usual one-tone feed, rather, it's a flurry of various pastel and muted shades. Notice that they don't suddenly use neon or blinding colors? This is another factor to look at if you're planning on making your feed colorful in an aesthetic way. Remember to stick to the same color family with the same tones.
3 Your photo content matters too.
We never want to limit our postings, but you might want to sacrifice some of them for aesthetically pleasing ones as well. The best thing to approach this is to know how to shoot photos from different angles. Take Instagram accounts for famous landmarks as an example, see how @lascasasqc executed their photos in their feed?
Las Casas QC's photos are a mix of food, attractions, gatherings, and special event announcements. They are also not one to shy away from showcasing intricate parts of their place. Notice how their content focuses on certain subjects. This will give viewers something to actually look at, admire, and look forward to when scrolling. It's so easy for us to blindly point and shoot, but don't do that. Always shoot a subject whether it be food, establishment, or quaint cutleries.
4 Watch the flow of things.
There are Instagram accounts that contain various things but somehow, everything still looks consistent and nice. This is because there is a certain flow to them. Take food accounts for example. A known restaurant @lemaison_yelolane features different kinds of food and yet it all looks aesthetically pleasing and not at all messy.
Takeaway: As you noticed, the restaurant featured different food choices, but somehow, they all worked together still. This is because each photo complements the pictures beside them (yes, that's actually a thing). Imagine one photo in there of some neon pink birthday cake pops up. It's going to stick out like a sore thumb and ruin "the flow of things".
5 Clean backgrounds make lesser noise.
As much as possible we want to have an Instagram feed that has less clutter. Sometimes a feed may look too overwhelming because of unnecessary additives. Our goal is to find the perfect balance for our feed to look busy, but easy on the eyes. This can be achieved by maintaining cleaner backgrounds. Having clean backgrounds lets us focus on the subject more, rather than looking at too many things all at the same time.
6 Pinned Instagram stories also make a difference.
Having creative stories cover on your feed also makes all the difference. Don't neglect this part of your feed! Remember that it also impacts consistency if you leave this part out.
Make WeDigital your go-to digital marketing agency!
We have all the tools and strategies for your business to reach new heights. WeDigital is a modern digital marketing agency that can cater to your website, social media, hosting, and SEO needs. Want to know more? Head over to our website to know more about digital marketing. If you're interested to do business with us, just give us a ring! We're very interested to know your thoughts.
We hoped we made your research easy as one, two, or three! These are the five of the most awesome Google search hacks that can be useful in your projects and scholarly studies. Anyways, we hoped this helped!