Love is definitely winning this month of June as we celebrate Pride month! To commemorate the event, our digital marketing team went to the "Alab for Love" pride march in Quezon Memorial Circle for the LGBTQ+ community. As we walked together with the rainbow community, the event did not fall short of its expressive fashion, colorful flags, delicious food, and fun booths. There, we asked a number of individuals about their thoughts on workplace inclusivity and how it impacts their well-being in a workplace setting.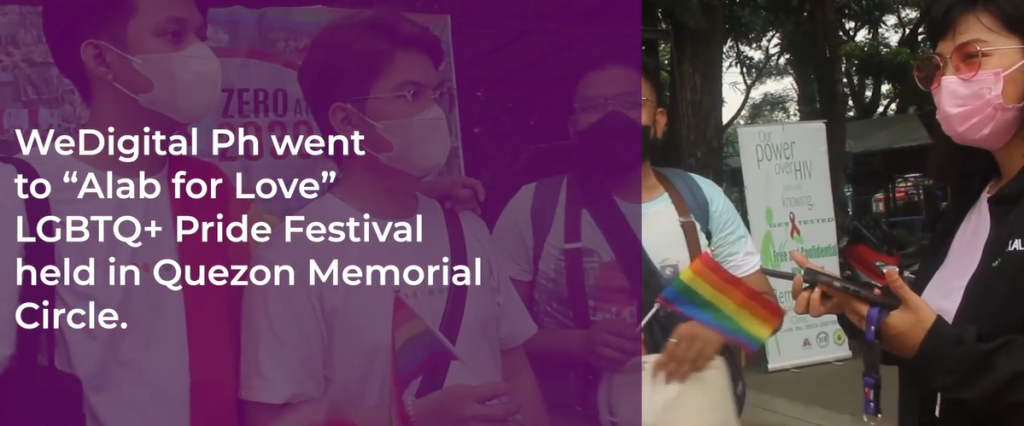 Wait, what's workplace inclusivity again?
Workplace inclusivity is building a safer and more comfortable environment for people with differences or disabilities. It is an environment that makes sure that people with diverse backgrounds feel welcomed, loved, and accepted. The topic has long sparked the interest of people since there has always been (still) a slight unrest with the LGBTQ+ in certain workplaces.
Therefore, most companies instill a certain culture (which is usually in line with workplace inclusivity) that regardless of a person's sexual orientation, gender identity, or gender expression, everyone should treat everyone with respect.
How to ensure workplace inclusivity for the LGBTQ+ community.
What makes a company whole? It will always be the people working in it. The happier the people are in the company, the more light and friendly the atmosphere is. This can also be a motivating factor for the employees to go to work every day.
On the contrary, have you ever walked in on two people having a heated argument? Notice how tight the air is? Nobody wants to have that kind of atmosphere every time they go to work. It's simply downright discouraging. So how do we achieve an inclusive workspace? Here are some ideas!
1 Start with the leadership team.
Probably one of the oldest tricks in the book. To instill a good culture in the company, the higher-ups need to put their best foot forward and lead the positive brigade. Let this be a goal for the entire company. When the executives show their desire to build a diverse team with a good and healthy environment, everything will fall into place, most especially the people in the company itself will follow through.
2 Make it a core value in the company itself.
There's no escaping it now. Integrating inclusivity and diversity as a core value in the company makes it a statement that you are completely embracing it as a whole.
3 Create a safe space…
Making a safe space is still different from making someone feel welcome. So, how do you make your workplace a safe space? It doesn't have to be some immediate drastic change, but a simple gesture would go a long way. For example, you could consider having gender-neutral bathrooms in the office. One other thing you could do is to provide pronouns in their email signatures.
4 Make it a point to celebrate each other's differences.
This doesn't need to be a weekly thing, rather, it can be sort of a tradition. Take note of people's important dates and acknowledge them in the company. You can also make break times as sort of a bonding thing among employees where everyone can just have a talk and have a taste of everyone's lunches.
Another important factor is also taking notes of people's ethnicity before taking a serious decision among the group. It helps to be sensitive about other people's needs and traditions especially if you're among mixed races and genders.
So just how important inclusivity is for the LGBTQ+ community?
The pride march isn't just a celebration for the rainbow community, but it also shows solidarity that we are supporting them and we are their allies. One way of showing our support and love for them is by making them feel welcome. This is why it is always a good practice for workplaces to make safe spaces for them to grow and express themselves.
So just how important is workplace inclusivity for them? Here are some of the answers we gathered during our interview in the "Alab for Love" pride march!
"…Everyone deserves to feel included…"
"Inclusivity in a workplace is important because we've been marginalized for so long…"
"We all need bonds, we all need relationships in our lives, to stay afloat in the society…"
"All that matters is we love people, you love me, I love you…"
"Pag natanggap ka ng workplace mo mas comfortable ka. Hindi ka mahihiyang maging active…"
"Don't be afraid of being yourself because being yourself and true to yourself is more important than fitting in the society…"
These are some of the memorable answers that our interviewees gave. For them, workplace inclusion plays a big role for them (but for everyone in general) to maintain a healthy working atmosphere.
Make WeDigital your go-to digital marketing agency!
We have all the tools and strategies for your business to reach new heights. WeDigital PH is a modern digital marketing agency that can cater to your website, social media, hosting, and SEO needs. Want to know more? Head over to our website to know more about digital marketing. If you're interested to do business with us, just give us a ring! We're very interested to know your thoughts.
Sources: